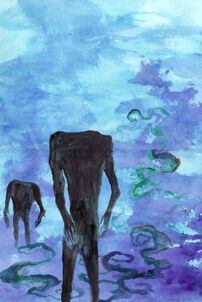 The Boraga are large lumbering black creatures supposedly created long ago by the Uulaxi. The have no head, but instead just a large sqaure frame with long malformed arms and spidery fingers. They serve as fairly mindless minions that act as tireless work force. They move from task to tast without resting, eating, or sleeping, and give little mind to their surroundings. They can move freely from realm to realm without the risk of discorporation.
Some rumors exist that the reason for the Boraga's unique abilities is that they existed long before the universe; that the Uulaxi did not in fact create them, but found them and utalized them for their on agendas
While the Boraga will awknowledge certin caste levels of the mark, they only take orders from the higher eschleon of power.